The ePumpNZ is the complete solar pumping solution, providing reliable and cost-effective pumping anywhere you need it.
Back in 2014, a mate asked us if we could build him a solar water pump as a bit of a side project. We like new ideas (and challenges) so we got to work. We used our existing knowledge of pumping, and learnt a hell of a lot about solar in a short space of time! Once it was installed and working, we started to think about who else could use something like this. Turns out there are plenty of people needing a reliable, self-sufficient and economical pumping solution.
Since then we have continued to develop and improve the ePumpNZ to the point it is today – reliably pumping water, even in harsh environments. We're really proud of it, our customers love it, and we think you will too.
Gavin and Shane.
WHAT ARE THE RUNNING COSTS VERSUS A TRADITIONAL PUMP?
We aren't going to lie. The initial costs of an ePumpNZ will likely be more than a traditional pump. But the running costs over time are much cheaper – and this is where the savings can rack up.
– No fuel costs
– No labour costs (e.g. to transport fuel)
– Minimal maintenance costs
HOW MUCH WATER DO I NEED TO BE PUMPING EACH DAY?
It's not always easy to know exactly what water you need. Luckily there are really useful tables like the one below that can help you out.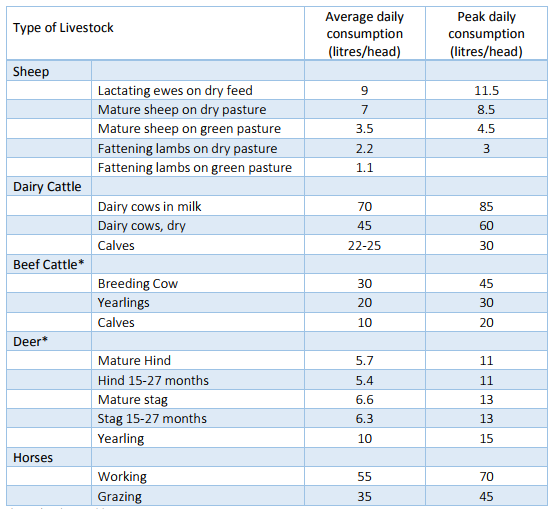 WHAT ARE THE BENEFITS OF STOCK WATER RETICULATION?
In 2017, a great report was published looking at the benefits of installing stock water reticulation systems on hill country farms throughout New Zealand. Benefits included:
increased in stock units per hectare
increased animal productivity
better grazing management
greater pasture production
better environmental outcomes\
greater ability to implement farm environment plans
increased drought resistance.
But you don't have to take our word for it. There is a report (and a handy video) if you are interested:
ECONOMIC EVALUATION OF STOCK WATER RETICULATION ON HILL COUNTRY REPORT.PDF
No fuel or electricity costs. No labour costs of getting fuel to the pump.
Can be installed wherever your water source is, no matter how remote.
Built to withstand the harshest environments, pumping both clean and dirty water.
Our ePump is your solar pumping solution, packaged in a box for ease of installation. With this low voltage kitset you won't need an electrician or builder.
The ePumpNZ solar comes in 3 models to fit with your needs:
# Flow rate dependent on sunlight hours and intensity
TE APITI STATION – HAWKES BAY
"It gets a once over (service) once a year – and that's it. I haven't had to spend any other time or money on it." – Richard Scott
KERERU – HAWKES BAY
"It's massively cost efficient. It was going to cost us $100k in powerlines – so after installing the ePumpNZ we are way ahead." – Stu Harper